Please note: Signs BC serves Property Managers and account customers only.
Parking lot appearance is the first impression customers receive when visiting your business. Signs BC Illuminated makes sure it's a positive impression. Our Services Include:
Line Removal and Repainting
Stenciling, including text and symbols (Fire Zone, No Parking, Handicapped Only, etc)
Center and Safety Lines
Aisle Marking and Directional Arrows
Layout Suggestion and Planning
Complete Layout Work for New / Resurfaced Areas
Curb Painting and Repairs
Schedule Your Line Painting Project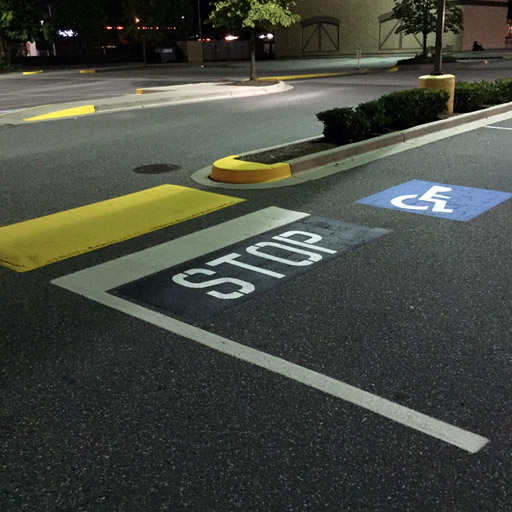 Painting outdoor locations are subject to weather conditions. It is important to schedule your line painting project with additional notice to Signs BC to minimize the chance of a deadline being missed due to wet conditions. Dry days are mandatory.
Line painting is performed mainly in the evenings or after hours, and our paint cures quickly to avoid any inconvenience to you or your customers.
Your Line Painting Checklist
Download our handy Line Painting Checklist Form
Contact us for our on-site survey service, or to assist us in estimating your project quickly, please be sure to submit the following details:
How many parking stalls do you have or require?
How many "Accessibility" stalls are there?
How many stalls require numbers or need to be identified? (Please include the exact number sequencing, text, or symbols you require)
Do any stalls have existing lettering? (Ex. Visitor or Reserved)
How much existing text needs to be repainted? Changed? Removed? (Which text?)
Do you require new lines to be painted White or Yellow?

White

– Regulates accessible public and private parking lots and stalls, lane ways, or bordering zones and areas

Yellow

– Regulates and controls borders, zones, or traffic flow that may not stop, park, enter, and also lane ways that separate traffic flow, and sometimes parking lots

Are new layouts required? (We offer layout advice for optimal design results)
Do the curbs need to be painted or repaired?
Do the lamp posts need to be repainted? Or are there any lights to be replaced?
Do you require new or replacement signs?
Do you require any sign service, repairs, or maintenance?